Would you like to have the peace of mind to know your whole website is backed up?
It's very easy to "set it and forget it". Take a few moments to ensure your site is backed up and have the security to know you're covered, should anything happen.*
The "too long; didn't read" version

Install, activate and set up these 2 plugins to completely back up your site:
Snapshot Backup
WP DBManager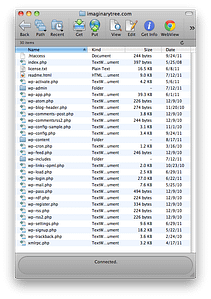 Nuts and bolts
Your WordPress site is created and served dynamically, so there are a couple things to consider to have 100% backup coverage.
What is your site is comprised of?
Your site – even if it only has 5 pages, is composed of more files than you may initially expect. What really makes up your site?
1. The database. The MySql database which stores all of your page text as well as directions to images and other file links you created within your site.
2. The open source software files that make up WordPress. We don't normally see the files that make up a piece of software, but because WordPress is open source, all of the files that make it work are uncompressed and easily visible. Of biggest customization (and therefore importance to back up) is the "wp-content" folder, which houses any themes and plugins you've installed as well as any images or other files you may have added to your site along the way. This is where the magic happens!
A developer will be familiar with this view of the WordPress application files (see image above).
Back it up, as easy as 1, 2 . . . that's IT!
In an effort to keep things simple, I've found a couple plugins that take care of backing your site up in just 2 easy steps. Both plugins offer automatic backup.
(If you need a refresher on how to install and activate a plugin, here is a video.)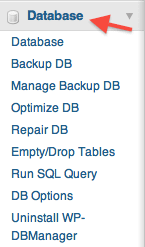 1. The "WordPress Database Manager" plugin backs up the database. To manually back up your database, go to the "Backup DB" menu option and click "Back Up". However, if you would like to have it automatically back up once a week, those settings are found under "DB Options". Here, you can specify to receive a back up copy of the database in your email.
Note: I noticed a slight glitch in that automation didn't seem to take effect until you select gzip "yes".
[button link="http://wordpress.org/extend/plugins/wp-dbmanager/" target="blank"] WP DBManager Plugin on WordPress.org [/button]
---

2. The "Snapshot Backup" plugin backs up all of your WordPress files. This plugin backs up all of the files and folders you see in the first image I shared in this post. Once this plugin is installed and activated, click on the menu item "Snapshot Backup" to find simple instructions to use the plugin.
You may manually create a compressed file which you can immediately download to your desktop by clicking "Create New Snapshot". However, if you take a moment to set up the FTP information you can set your site on a backup schedule and you won't even have to think about it again!
[button link="http://wordpress.org/extend/plugins/snapshot-backup/?topic_id=20736″ target="blank"] Snapshot Backup Plugin on WordPress.org[/button]
For more technically minded folks
Here's a link to more detailed backup information on WordPress.org. I found it to be very interesting and informative.
[button link="http://codex.wordpress.org/WordPress_Backups" target="blank"]WordPress General Backup Information[/button]
---

* If you don't have time or inclination to set your site to back up, I am available for hire. I would estimate an hour maximum for installation, activation and automation set up. In some cases, time would be less, and I would only charge for the time I spent. It is my interest to share what I know with you, and if you have the time and interest to do it yourself, that's awesome!
Please share your conquests! It excites me to know I've been helpful – and it will inspire future tips!