Unless your login page is hidden (which provides additional security), the sign-in area for a WordPress site can be accessed using the following traditional formula: http://www.yoursite.com/wp-admin/
(substitute "yoursite.com" with your domain name.)
If going there shows you the login page, great! Let's continue. (If that doesn't work, contact your web host.) Note: If you are hosted on my server, most-likely we have obfuscated your login page for additional security. I shared this information with you when we set up your account and asked you to bookmark the login page or otherwise save it to a safe place. Contact me if you can not find this information.
The first line of defense to access your site is to find the "Lost your password?" link below the sign-in area. (If you do not see the "Lost your password?" link, see the note (in red) at the end of this article for your next step, then loop back up here.)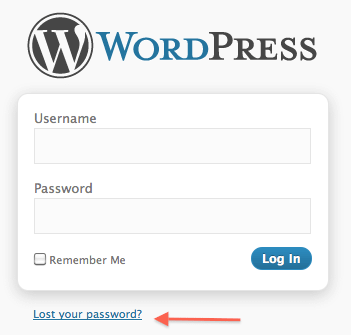 Click the "Lost your password?" link, then type in your email address (or username, if you know it) and submit the form. An email with instructions on resetting your password will be emailed to you.

At this point, I would suggest you sign out of your site, then back in again so you can allow your username and password to be saved by your browser for future reference/retrieval.
In Firefox, you have the additional security feature of a central password to access all your net passwords, if God forbid, your computer were accessed by a stranger. But, be sure to quit out of Firefox when you are done with it to lock the passwords back up again!
---
Note: if your site's login screen does not have the link to reset your password, you can go directly to the following address:
http://www.yoursite.com/wp-login.php?action=lostpassword
(Again, be sure to substitute your domain name for "yoursite.com".)