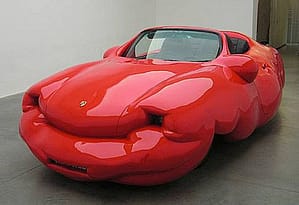 Is your WordPress database larger than it needs to be? Perhaps you're moving to a new server and having trouble uploading the database because it's too large?

The WordPress default maximum upload file size is dependent on what your host deems appropriate and can range from 2MB, 8MB to 64MB – and the default limit is 50MB if you directly import your database via phpMyAdmin.
Unless your site is thousands of pages (or posts) large, you shouldn't run into any size issues, especially recently, because hosts have been raising their maximum default upload size. But are you having trouble?
Whether or not you're bumping up against the maximum file size for your server, it's still a very good idea to keep your database optimized and remove unnecessary bulk. Let's do it!
How do we optimize the database? EASY. With a plugin called WP-Optimize.
WP-Optimize can eliminate database bloat in 5 areas:
Post revisions
Auto draft posts
Spam comments
Unapproved comments
Database tables
I've bolded the two that can be of most help. (#1 & #3) However, if you have good control of spam, you will never need to use WP-Optimize for that purpose. (Incidentally, spam control will be a future WP tip of the month.)
[note color="#99C2DF"]
RECOMMENDATION:
Be sure to back up your database before
and after
using this plugin. Doing this will not only show you the "Before" and "After" database sizes, it will allow you to go back to your previous backup, should you
over
-optimize and regret your choice(s).
For help backing up your database (and your whole site): [button link="https://jeanegan.com/2011/10/20/your-complete-site-backup/" color="#d1d1d1″ size="1″ style="1″ dark="1″ radius="auto" target="blank"]Click Here[/button][/note]
To use this plugin, install and activate it. Then it's as easy as 1-2-3!
(If you need a refresher on how to install and activate a plugin, here is a video.)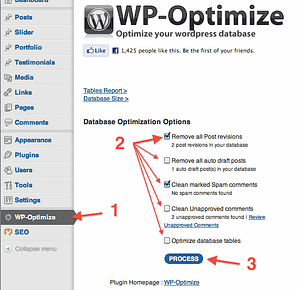 In the back end of your site, (1) go to the "WP-Optimize" menu item in the left menu. From there, (2) check any (or all) of the 5 options, then (3) click the "Process" button & in a few moments, your database is optimized!
When you optimize, share your savings! My own site was a bloated 572.9 MB. (Yikes!) It was due to a plugin I use, there were 300k+ of post revisions. I fixed the plugin settings to avoid running into future problems, then installed and ran WP-Optimize and got rid of extraneous post revisions. It brought the database size down to 2.4 MB, making my overall savings 570.5!
You may download the WP Optimize plugin from the WordPress.org website here:
[button link="http://wordpress.org/extend/plugins/wp-optimize/" color="#E84D2E" size="2″ style="1″ dark="0″ radius="auto" target="blank"]WP-Optimize[/button] [spacer size="20″]
Put your WordPress database on a diet and bring it back to the lean, mean machine it is! Rawr!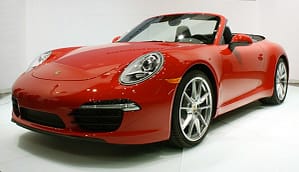 Advanced developer tip: After creating your client site but before you hand site control over to your client, run WP-Optimize to remove any page or post revisions you have created along the way. This will give a uniform and more professional presentation of your work to your client.